What is Chiropractic Care?
Chiropractic care is the primary care profession for spinal health and overall well-being. Chiropractic is a natural method of healthcare that uses evidence based methods to help patients suffering from back and neck pain as well as headaches and other conditions. Chiropractic care has also been helpful to increase vitality and promote well-being. It is the largest drug-free and non-invasive form of health care in the United States. Chiropractic Physicians are trained to diagnose and treat many conditions. Chiropractors have the authority to order and interpret blood and urine laboratory tests and radiographic studies such as XRay, CT, MRI.
Why Seek Care from a Chiropractor?
Chiropractors who practice with an emphasis in orthopedics and sports health have specialized training in non-operative management of orthopedic conditions, as well as physical fitness and sports injuries. Our providers are able to help patients in pain without the use of opioid and other pain medication. Our chiropractors have advanced knowledge of biomechanics and human movement and are able to integrate this into their diagnosis and treatment plans. Treatments often extend beyond the spinal column to include extremity care and treatment of muscles, ligament, and tendons.  Patients seeking chiropractic services can have a quicker evaluation of an injury and identification of the pain generating tissue, more advanced treatments which can help decrease the amount of visits, properly prescribed corrective exercises to help prevent re-injury, and a holistic approach wellness. Above all, our chiropractors are passionate about patients health and want to do what they can so these patients can remain active in whatever they choose.
The Performance Health Difference
Communicate with our office with one of our staff members 24 hours a day, 7 days a week.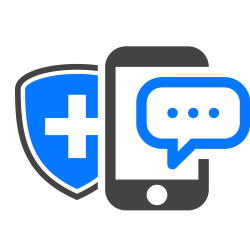 Text service that allows you to communicate with your provider through your mobile device.
Personalized care throughout the entire visit in a private treatment room
Our user friendly online scheduling system allows you to make or modify your appointment with your provider
For your first session and 30 minutes for your follow-up sessions to ensure all your questions and healthcare needs are addressed during your visit with us.
Personalized care throughout the entire visit in a private treatment room
Interesting numbers about Back Pain: